Pakistan blames 'security lapse' for mosque blast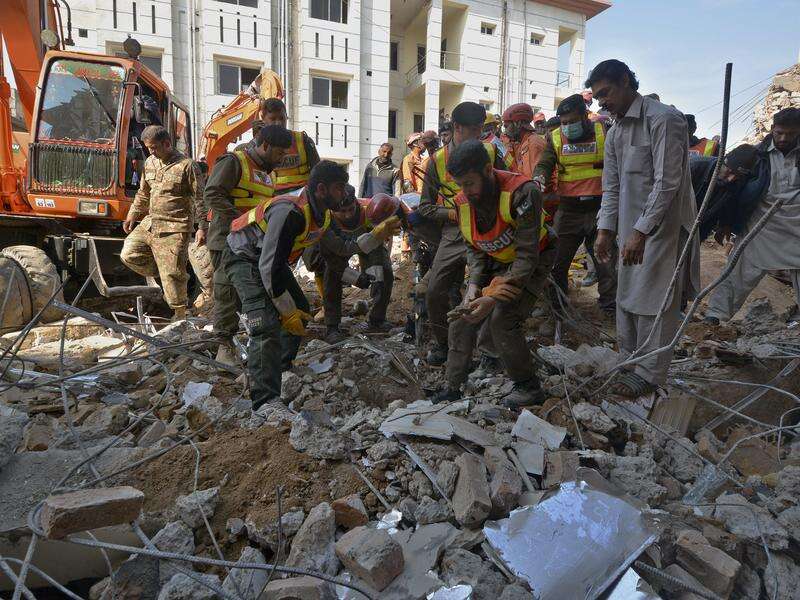 The blast that pierced a Sunni mosque at a major mosque police facility was one of the deadliest attacks on Pakistani security forces in recent years, with the death toll rising to 95 on Tuesday.
More than 300 worshipers were praying at the mosque in the city of Peshawar and more were approaching when the bomber fired its explosive vest Monday morning, officials said.
The blast blew off part of the roof and what was left soon collapsed, injuring many others, according to Zafar Khan, a police officer.
Rescuers had to clear piles of rubble to reach believers who were still trapped under the rubble.
More bodies were recovered overnight and early Tuesday, and several of those seriously injured died, according to Mohammad Asim, a spokesman for the government hospital in Peshawar.
"Most of them were police officers," Asim said of the victims. The bombing also injured more than 150 people.
Bilal Faizi, the senior rescue officer, said rescue teams were still working at the scene as it was believed more people were trapped inside.
Mourners buried the victim in various cemeteries around the city and elsewhere.
Counter-terrorism police are investigating how the bomber reached the mosque, which is located on a walled compound within a high-security zone with other government buildings.
"Yes, it was a security error," said Ghulam Ali, the provincial governor of Khyber Pakhtunkhwa province, whose capital is Peshawar.
Talat Masood, a retired army general and senior security analyst, said Monday's suicide bombing showed "negligence."
"If we know that Tehreek-e-Taliban Pakistan is active and if we know that they have threatened attacks, there should have been more security at the Peshawar police compound," he told the Associated Press, referring to a militante Group also known as the Pakistani Taliban or TTP.
Kamkan Bangash, a provincial secretary-general of opposition party Pakistan Tehreek-e-Insaf, called for an investigation.
He said Prime Minister Shahbaz Sharif's government had failed to improve law and order and should resign and call early general elections.
Sharif visited a hospital in Peshawar after the bombing and vowed "tough crackdown" on those behind the attack.
"The sheer scale of the human tragedy is unimaginable. This is nothing short of an attack on Pakistan," he tweeted.
Authorities have not determined who was behind the bombing.
TTP commander Sarbakaf Mohmand claimed responsibility for the attack in a post on Twitter. But hours later, TTP spokesman Mohammad Khurasani distanced the group from the bombing, saying it was not their policy to target religious sites
His explanation did not address why a TTP commander had claimed responsibility for the bombing.
Pakistan, made up mostly of Sunni Muslims, has seen a surge in militant attacks since November when the Pakistani Taliban ended a ceasefire with government forces.